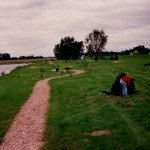 Gilman Park Arboretum in Pierce, Nebraska, was established in 1993 through grants from the U.S. Small Business Administration, the Community Forestry Assistance Program, and the Lower Elkhorn Natural Resources District. Grant funds were matched by the City of Pierce. Further funding has been received through memorials and donations, which presently amount to over $25,000.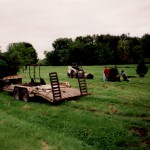 The arboretum became affiliated with the Nebraska Statewide Arboretum in 1996. The NSA is a network of over 80 arboreta, parks, historic properties and other public landscapes located in 48 communities across the state. Linked together and supported by the Arboretum office at the University of Nebraska-Lincoln, this unique statewide network makes the Nebraska Statewide Arboretum accessible and relevant to citizens across Nebraska. The NSA website can be seen at www.arboretum.unl.edu.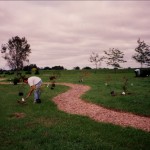 Gilman Park Arboretum encompasses 14 acres around beautiful Bill Cox Memorial Lake and is serviced by a 1.2-mile handicapped accessible paved path. There are over 300 different labeled varieties of trees and shrubs among the 813 woody plants in the arboretum. Also present are six landscape gardens with over 100 varieties of perennials and grasses. A printed trail guide is available at the arboretum entrance. View map of the arboretum »
Mission Statement
The mission of the Gilman Park Arboretum is to improve the landscape environment of Pierce and the surrounding area by serving as an outdoor education area for homeowners, students, and other park users to observe landscape plants recommended for use in the community; to learn the importance of species diversity, good landscape design and environmentally sound landscaping techniques; and enjoy nature in a quiet reflective setting.