In 2000, the USDA Forest Service co-sponsored a program called Millennium Grove.  They partnered with American Forests Famous and Historic Trees program to provide every state with 100 tree seedlings that were grown from seed from various famous and historic trees around the county.  Through a grant administered by the Nebraska Community Forestry Council, Gilman Park Arboretum received nine of these trees which were planted in 2001 along with another tree donated by the Pierce Brownie Girls Scout Troop 256.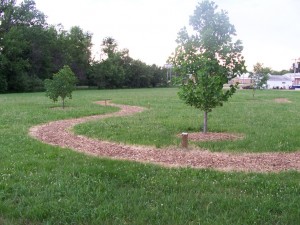 The trees have now grown enough that the grove has been officially opened to the public in 2006.  Trees present are:
White Oak from the Kentucky birthplace of Abraham Lincoln
Sugar Maple from the Kansas home of Amelia Earhart
Two White Ash from the Cincinnati, Ohio, home of Harriet Beecher Stowe
Two Green Ash from the Missouri birthplace of George Washington Carver
Bur Oak from the cave entrance that Samuel Clemens recalled in his writing as Mark Twain
Eastern Cottonwood from the Lewis & Clark trail in Montana
Tulip Poplar from the Nebraska home (Arbor Lodge) of J. Sterling Morton
Rambo Apple from the last known living tree planted by John Chapman (Johnny Appleseed) around 1840 near Nova, Ohio
Construction of the wood chip path through the grove and the labeling of the trees was done in May 2006 by Andrew Halsey for his Eagle Scout project.
More famous and historic trees will be added to the grove in the future.